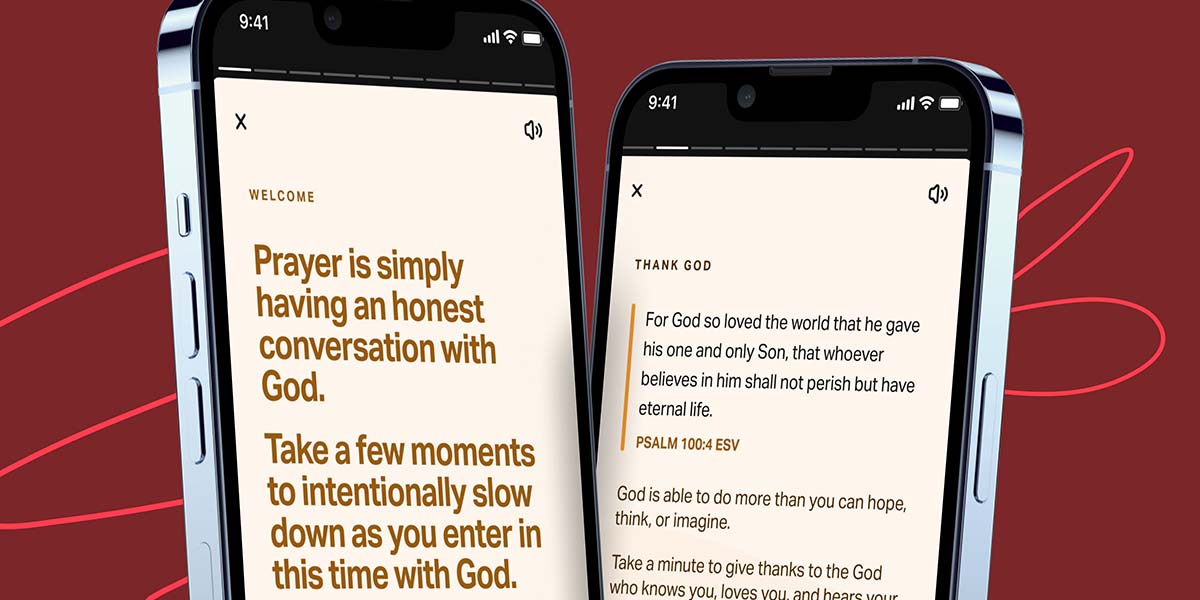 "I want to pray, but I don't have time."
With our busy lives and schedules, it can be hard to make time to pray or even know where to start.
When you feel overwhelmed, remember this: prayer is simply an honest conversation between you and God.
Here are 3 ways you can connect with God through prayer.
---
1. Guided Prayer
Do you want to talk to God but don't know what to say?
Guided Prayer provides daily prompts that help you reflect on Scripture, draw closer to God, and talk to Him about what's on your mind.
---
2. Prayer Lists
Sometimes when we pray, we get distracted.
With the Prayer List feature, you can focus on talking to God by writing your prayers down.
As you draw closer to God through prayer, you can also draw closer to your community by sharing your prayer requests with Friends.
The Prayer List helps you see how God has answered your prayers and remember His faithfulness.
---
3. Prayer Reminders
Sometimes we need to be reminded that we can talk to God at any time.
Prayer Reminders are perfect for when you need extra encouragement to do that.
Go to your Prayer tab, and tap, "Prayer Reminder." From here, you can set up a time each day to receive a reminder.
---
"Rejoice always, pray continually, give thanks in all circumstances; for this is God's will for you in Christ Jesus."

Share on Facebook

Share on Twitter
Share via Email